Outstanding Low-Cost DIY Home Security Systems
DIY home security systems are simple enough to install single-handedly without any professional help and can drastically cut your cost to a fraction of the cost of conventional home alarm security systems offered by many home security systems companies.
The most simple of residential security system tools can be placed in your home without any difficulty, and some of them can cost as little as $10. Self-managed home security alarm systems allow you to monitor your home yourself, through your Web browser using a computer or smart phone by utilizing technologies such as wireless connectivity and battery-operated sensors.
Some Excellent Ways You Can Safeguard Your Home
We will examine some of the ways you can safeguard your home. But first, let us ask this question: Why would you install your security systems yourself?
The obvious answer is: it is cheaper to set up and manage especially if your security system choice is wireless. Most new DIY home security systems products and services are wireless so they are convenient.
While many people might enjoy drilling holes in doorjambs and walls, most would prefer to stick a few wireless sensors on the windows and move on.
One natural question you may want to ask is, "which DIY home security systems should I choose?"
Do not fret, we shall offer you some information on (top do-it-yourself) DIY home security systems that could help you make informed decision.
Simple DIY Home Security Systems Supplies & Services
General Electric (GE) Security Systems
General Electric (GE) Security produces a number of inexpensive products under the GE smart home wireless alarm system kit
 and GE smart home door stop alarm
 both providing great entry defense.
GE smart home door stop alarm activates when someone tries to open your door. Combination of these two door access control systems
 provides great entry-level home alarm systems and security monitoring.
Since this door entry alarm is positioned on the floor as doorstop and doesn't need installation, it's a handy device for most world travelers. You can simply place it beneath the doors of your hotel rooms.
Equally effective is a low-cost GE automatic security light kit
 and an ultra-cheap magnetic, battery operated, 2 pack wireless window and door alarm
 that attached to your door and doorjamb, and squeals loudly when the door is opened.
These devices are best installed in any rooms in your house that are rarely used, as well as gates and windows you would prefer to keep closed for safety reasons.
More Advanced DIY Home Security Systems Options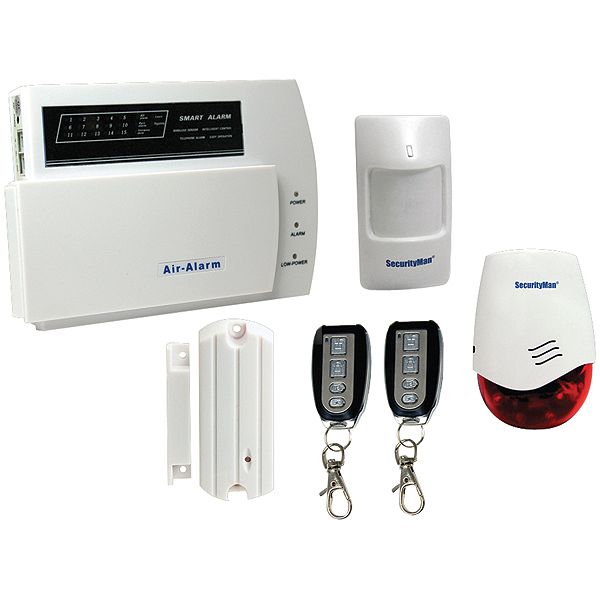 For those versatile folks who are ever-ready to do a bit more work, there are full do it yourself home alarm security system that take token effort to install and cost far less than professional installations.
These self-service kits usually include door sensor, small attachments that monitor windows and doors, as well as motion detectors and multiple sensors.
One powerful feature of monitored system is the video surveillance and cellular offered by your house alarm security system.
You would rarely need to use any tool for your installation. You would only need the double-sided tape to secure the sensors in place. Some of these wireless home security alarm systems are designed for apartment dwellers who are prevented from damaging the paint on doors and windows.
All of these DIY home security alarm systems are almost completely wireless, with the exception of the base stations, which connect to a landline. However, the sensors, buttons and keypads rely on Wi-Fi or other wireless connectivity, enabling them to cast a wide net around your house or apartment. Listed below are some wireless home security alarm systems you should consider. We have made tremendous effort to streamline to selected few.
LaserShield sells DIY home monitoring systems kit
 that costs about $200. It includes a base station, three wireless window and door sensors, a motion detector, two key-fob controllers and a smoke detector. It connects to the company's monitoring service through your phone line, and a cellular connectivity option is also available for less than $1 per day. Some extra features include wireless cameras and a flood detector that alerts you to water in low-lying areas.
LIFESHIELD.Com DIY Home Security Systems
Another company, LifeShield provides almost exactly the same package for less. Their packages include a smoke alarm siren detector, eight sensors, a base station, and a key-chain remote. You have the option of either monitoring the system yourself online at $20 per month, or allowing LifeShield to monitor your system for $30 a month.
The self-monitoring plan allows you to receive alarm signals by SMS text messaging or e-mail, and you are able to control the security system from any computer with an Internet connection. You can greatly increase your security assurance by having security professionals and a good home security company monitor your home.
For DIY home security system on a budget there is the Q-See wireless security system for home 
and a recent one with auto-dialer alarms which can be remotely arm and disarm. The kit includes an infrared motion detector, five door sensors, and two keychain remotes. Instead of alerting anyone, the Q-See simply automatically dials up to six numbers and sets off a high-pitched alarm, which is usually enough to dissuade casual thieves.
DIY Video Surveillance Security Systems
If you're in the market for digital home video surveillance equipment, Logitech and Lorex provide amazing wired and wireless video camera security systems.
LOGITECH.Com Video Security Systems
Logitech and other major manufacturers of webcams are getting into home security with products that will keep an eye on your premises remotely.
Logitech's master
 home wireless security systems is a sleek, beautifully designed products which allows you to place both indoor security camera and outdoor security cameras all around your residence.
Logitech system automatically records video when motion is detected within the camera's field of vision and can send SMS or e-mail alerts by computer or to mobile phone.
LOREX.Com Home And Business Security Systems
Lorex provides excellent home, business and office security solutions with a wide array of wired and wireless CCTV cameras, security digital video recorders that supports multiple cameras.
Lorex features a complete surveillance solution, the EDGE Touch Pro component bundle the first commercial surveillance recorder with a touch-enabled user interface.
The EDGE hybrid home surveillance systems is the perfect security DVR for your home or business. Lorex security solution is a wired and wireless hybrid solution allowing you great flexibility.
The included touchscreen LCD monitor allows you to control your Edge system with just the tip of your finger!
Simply tap, scroll, drag, and slide to view your cameras, change settings, and navigate system menus. The slim and light weight LCD monitor is ideal for placement on any desk or counter top, or in a standard rack mount application.